Authentic Eastern Health L.L.C. (the Chinese name is Ming De Tang) was founded on September 1st, 1999 by Ping Zhao and her friend.

Our main office is located at 3005 Brodhead Rd. Bethlehem. We have been offering Iridology Analysis, Homeopathic medicine, Acupressure, Herbal Consultation, Tai Chi and Qigong exercise and other health and wellness classes. We have been teaching in colleges, universities, hospitals, nursing homes, churches, companies and community centers for 28 years. Local newspapers have featured us in many articles. (See News About Us)
About Ping Zhao

Ping Zhao came to the United States from Mainland China in 1995 as part of a scholar exchange program with Northampton Community College. She holds a Bachelor's in Physics, a Master's in Business Administration, and a Doctorate in Naturopathy. She also has two years of clinical herbal study with David Winston. She studied Iridology with internationally recognized authority Dr. Ellen Tart-Jensen and Homeopathic Medicine with CEDH. Ping is certified Iridologist of International Iridology Practitioners Association.
Ping became a teacher in 1971, and has more than 53 years of teaching experience. She is a Naturopathy Doctor and certified Tai Chi Master. She is the owner of Authentic Eastern Health in Bethlehem, PA. Ping offers Iridology analysis, Homeopathic Medicine, acupressure, Herbal consultation, Tai Chi classes and other health and wellness programs in universities, hospitals and other facilities around the Lehigh Valley. She has taught more than twenty thousand students. Ping was the author of four books in China. She has printed four books and made 24 DVDs in English for Americans to study Chinese culture (see books and DVDs). She has been studying all kind new knowledge and information and bring them to her practice.

Ping's father was a famous thoracic surgeon and her mother worked in a hospice. Both of them cared for and treated patients for more than 50 years. Ping follows their path and philosophy. Authentic Eastern Health L.L.C.'s Chinese name Ming De Tang comes from Ping's grandfather's Chinese herbal pharmacy. Ping's brother holds a Physiology PhD and serves at the Canadian Federal Government Department of Health. Her sister holds an Economics PhD and is a professor of Tianjin Nankai University. Ping's daughter graduated from Cornell University Johnson School MBA program. She is currently working as a manager with Luxasia in Singapore.
Contact Us
If you would like to contact me directly please feel free to use any of the following
contact information. We look forward to meeting you.

Send mail to:
Authentic Eastern Health L.L.C
3005 Brodhead Rd. Suite 100
Bethlehem, PA 18020

Call us at 610-866-9087

You may also contact us by filling out the following form and clicking "Submit".
Sign up for our Newsletter
Fill out our
form
to receive our newsletter
Map and Directions
From Allentown on Route 22: Get off at 191 Exit. Turn right on Rd. 191 north. Turn left at second traffic light on Brodhead Road. The office parking is on your right side. Enter main entrance and turn right then following sign for suite 100.
From Easton on Route 22: Get off at 191 Exit. Turn right on Rd. 191 north. Turn left at first traffic light on Brodhead Road. The office parking is on your right side. Enter main entrance and turn right then following sign for suite 100.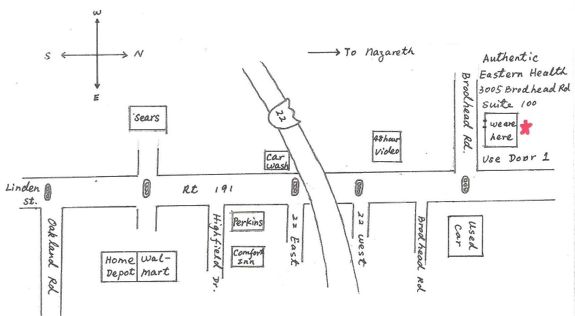 Our Philosophy
The Natural Way to Health
----Talk about my lifelong Goal
Ping Zhao
Nature is doing her best each moment to make us well. She exists for no other end. Do not resist. With the least inclination to be well, we should not be sick…------ Henry David Thoreau



My dream is to provide a system of health care that focuses on the prevention of illness and the use of nontoxic, natural therapies in the healing process. To bring this dream to fruition, I have traveled and remained far away from my parents and my only daughter, staying in this small town of Bethlehem, studying, practicing and serving the American people, day and night for thirteen years.
A couple of month ago, I wrote a paper titled "The Natural Ways to Health – Talk about Cervical Spondylopath (Neck problem)". In this paper I use Chinese Acupressure, Herbal, food, exercise and Magnetic Therapies, to teach people about healing themselves. This project is just a beginning. I plan to write "The Natural Ways to Health – Talk about Cholesterol", "Talk about Hypertension", about Arthritis, about Cancer etc. This will be a lifelong project of researching and writing papers on natural way for treating health problems.
My goal, the natural way to health, is based on the following principles:
1. Nature has healing powers
I believe that the body has considerable power to heal itself. Our role is to enhance this process with the aid of natural therapy.
2. Identify and treat the cause
I believe that finding the cause of a disease, whether physical or emotional, is the most important job for us. Symptoms are viewed as expressions of the body attempt to heal.
3. Treat the whole person
The Chinese ideogram for a human being pictures a figure rooted like a tree in the earth with hands outstretched like branches toward the heavens. If a branch has a problem, we need to find the cause from the root.
4. The natural health therapist should be a teacher
For thousands of years, Chinese Medicine doctors have been teachers. The way to Natural Health should do the same thing: educating and motivating patients to be responsible for their health by adapting attitude, lifestyle and diet.
5. Prevention is the best cure
An ancient Chinese Medicine doctor cannot get paid when his patient gets sick. That means he must try his best to keep the patient healthy. Natural Health doctor should be a specialist who recommends different approaches for their patient to prevent illness.
Based on the knowledge that I gained after studying and practicing more than 30 years, in this essay I am going to talk about Holistic Nutrition, Chinese Medicine and Acupressure, Botanical Medicine and Physical Medicine etc., and how I am going to use them to help people prevent and heal various health problems.
Holistic Nutrition
Holistic Nutrition—the use of diet as a therapy—serves as the foundation of natural health. There is a growing body of knowledge that supports the use of whole foods and supplements in the maintenance of health and treatment of disease.
I started my research on holistic nutrition in the 1980's and published my first book in China titled "Simple Methods of Western Food preparation" in which I recommend using low fat, low salt and no sugar in cooking. This book was distributed throughout China for many years. As a master chef, I wrote my own recipes and taught Chinese cooking in Northampton Community College many years. I will continue this course but change it to a more natural healing prospective.
Right now my paper, "Healing with Food and Herb" which includes 40 different foods and herb's name, family, part used, energy and flavors, organ meridians affected, properties, effects and indications, contraindications, dose and preparation is available in my office waiting room as educational information for my client (see copy).
Chinese Medicine and Acupuncture
Chinese Medicine and Acupuncture are part of ancient system which I grew up with and studied many years. It believes life is based on the flow of vital energy (chi). Acupuncture involves the stimulation of certain specific points on the body along "chi" pathway called "meridians". Acupuncture point can be stimulated by inserting and withdrawing needles, applying heat (moxbustion, hot stone and cups), acupressure, a laser beam, or combination of these methods.
I practice Acupressure in my office in daily basis. Acupressure is an ancient Chinese healing method that involves the use of finger or hand pressure on certain points on your body to unblock the flow of vital energy or Qi (pronounced chee) to release tension and restore inner equilibrium. It works within the philosophy of traditional Chinese medical theories and uses the same meridian system, acupoints and diagnostic procedures as acupuncture (but without the needles). Acupressure's real use is as a healthcare, self-care technique for promoting health balance and preventing disease and disorders. It can also be used as an effective tool for easing and curing common, minor ailments or as an adjunct to therapy for more serious conditions. Used in conjunction with whatever treatment people are currently receiving, it assists the body in restoring its natural healing mechanisms and good health.
My clients' age ranges are from age 8 to 85. Most of them have suffered from clinical pain and discomfort many years and have visited many doctors without improvement. I use Traditional Chinese medicine, Acupressure and combine with Foot and Hand Reflexology, Auricular point pressing (ear massage) Therapy etc. to diagnose and treatment. The results are great. I also teach all these methods in classes, educating my clients to use these techniques to heal themselves. I provide handouts explaining the techniques. After they have used my information they give it to the family, friends neighbors and their community. My class tapes and DVD are freguently mailed out of state.
Botanical Medicine
"... Plants have always provided for human life. They have nourished us with food, provided shelter, and supplied medicine — time tested medicine from the wisdom of the earth combined with the wisdom of the universe."
- Dr. Malte Hozzel
As an herbalist, I greatly appreciate what help the plants give to human beings. They provide heat, cool, moisten, dry, nourish, and calm our organs. When we are stressed, over use our energy and get sick, the plants are always there to help bring our balance back. I enjoy consulted my client using herbs and to see them feeling better. But I always make sure they have their herb education information in hand. I am going to teach some basic herb class soon.
Physical Medicine
This topic refers to the use of physical measures in the treatment of an individual. This includes physiotherapy, such as ultrasound, diathermy, and other electromagnetic energy agents; therapy exercise; massage; joint mobilization and immobilization techniques.
As a physics major student and teacher, I am always interested in human being physics. I believe we have our own energy field and our energy field is influenced by universal energy field. I use an electromagnetic lamp in my treatment and recommend magnetic therapy to my clients. I developed Chinese Health Ball and Finger Exercise program for joint mobilization and get very good results.
I have been teaching Tai Chi and Qigong more than 30 years. Tai Chi (pronounced Tie Chee) is a centuries-old Chinese discipline for health, relaxation, longevity and improved well-being. It was originally developed as a martial art and has evolved through the ages as a system of exercise and personal development. Tai Chi is a series of slow, continuous movements, one flowing into the next, designed to relax and develop the whole body. The aim of the precise flowing movements is to build up the body's internal strength, suppleness and stamina. Tai Chi can refine your reflexes, improve your balance, trim your waist, and fend off the signs of old age. Exercising your entire body, Tai Chi also helps you to relax and slow down, yet allow you to feel revitalized and refreshed.
Qi (pronounced Chee) means "energy". Qi is invisible to the eye but it is the vital life force that flows through the body and forms the very essence of human life. Qigong contributes to the growth of Qi, adding to one's life force and delaying the process of aging. Qigong involves physical movements, mental meditation, and breath control to enhance the blood, bones muscles and skin, resulting in energy and vitality.
Tai Chi and Qigong can be practice anywhere, any time and any age. The movements are simple to learn. They are considered a healing exercise because of its reputation for alleviating many health ailments. The stretching movements make the body limber, tone up muscles and create a sense of well-being. I have been teaching different levels of Tai Chi in United States for twelve years and thousands of students have joined my classes. I not only teach the movement but also introduce them to the Chinese cultural background and the philosophy behind the movement.
I am working on my naturopathy doctor degree right now. The naturopathy is a Latin – Greek hybrid which can be defined as "being close to or benefiting from nature". I am studying nutrition, cancer prevention, herbology, iridology and Alternative approaches for Arthritis and so on. My classes also include Homeopathy, Hydrotherapy, Counseling and Lifestyle Modification etc. I think they are all connected one another, leading to the one goal – the natural way to health.
Ping J. Zhao