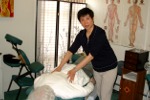 Acupressure is an ancient Chinese healing method that involves the use of finger or hand pressure on certain points on the body to unblock the flow of vital energy or Qi (pronounced chee), to release tension and restore inner equilibrium. It works within the philosophy of traditional Chinese medical theories and uses the same meridian system, acupoints and diagnostic procedures as acupuncture (but without the needles).

Acupressure's real use is as a healthcare, self-care technique for promoting health balance and preventing disease and disorders. It can also be used as an effective tool for easing and curing common, minor ailments or as an adjunct to therapy for more serious conditions.
Acupressure can be used in conjunction with whatever treatment you are currently receiving to assist the body in gradually restoring its natural healing mechanisms and good health.
What happens during an acupressure session?
Before the practitioner begins, you should briefly tell them which part of your body needs attention. The Therapist uses various hand techniques which concentrate on specific acupressure points, energy trigger points, muscles and joints surrounding the affected area. All manipulation is performed by the hands or fingers. Some people can feel the energy from the practitioner's palms. Wear loose, comfortable clothing to your session (no belts preferred). You will remain fully clothed and will lie on a comfortable, padded table during the session while relaxing music plays in the background. A session lasts about 30 minutes. After your acupressure session...Rest, relax and drink plenty of water.
What are some of the benefits of acupressure?
Relieves stress and muscle tension
Improves Sleep
Restores energy and vitality
Relieves stiff and aching joints
Supports recovery from illness or injury
Relieves back pain
Promotes overall good health
Acupressure may relieve:
Joint stiffness
Lower back pain
Headaches
Stress
Depression
Sinus problems
Tennis elbow
Leg Pain
Muscle spasms
Migraines
How long will each session last?
We schedule each hands-on client session for 30 minutes. The first-time visitor should schedule one hour. This session includes evaluation and acupressure. You also need to come to the office 15 minutes before the scheduled time in order to fill out the forms.
We always suggest that our clients come to the office 5 minutes before the session starts. Taking a few deep breaths can help you relax.
What kind of clothes should I wear?
Acupressure is performed through clothing. Soft, comfortable clothing such as sweats or workout clothes work best.
How much does each session cost? Will insurance cover the cost?
Each session of acupressure costs $80. The first visit, which is one hour and includes evaluation, is $125. Medical insurance will not cover it. Most company's HSA (Health Savings Account) will cover the sessions.
How many sessions will I need?
Most clients will start noticing an improvement in their condition after three sessions.
Cancellation Policy
If you need to cancel an appointment, we require at least 24 hours notice. The charge for cancellations within 24 hours is $25.
Other Therapies
We are offer feet and hand reflexology, cupping and Auricular point pressing (ear massage) therapy etc.
Reflexology
What is reflexology?
Reflexology is the physical act of applying pressure to the feet and hand with specific thumb, finger and hand techniques without the use of oil or lotion. it is based on a system of zones and reflex areas that reflect an image of the body on the feet and hands with a premise that such work effects a physical change to the body.
How does reflexology work?
There are many theories but in our approach we look at the nervous system as the explanation of reflexology's working.
Pressure sensors in the feet and hands are a part of the body's reflexive response that makes possible the "fight or flight" reaction to danger. Feet ready to flee and hands ready to fight communicate with the body's internal organs to make either possible eventuality possible. Reflexology taps into this reflex network, providing an exercise of pressure sensors and thus the internal organs to which they are inextricably tied.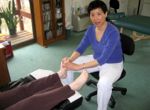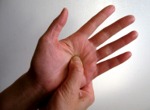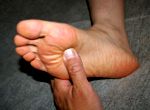 What are the benefits of reflexology?
In general terms the benefits of reflexology have to do with the reduction of stress. Because the feet and hands help set the tension level for the rest of the body they are an easy way to interrupt the stress signal and reset homeostasis, the body's equilibrium.
Reflexology is a complement to standard medical care. It should not be construed as medical advice. It should not be a replacement to medical help. Please use it wisely. We care about your safety.
What can a reflexologist be able to tell me about my health?
Reflexology assessment takes place as stress cues are evaluated. Stress cues are parts of the foot or hand that shows adaptation to stress. Adaptation is shown by visual signs such as callusing, knobby toes or bunion. Indications of stress are also seen as sensitivity to technique application or touch signs perceived by the reflexologist as technique is applied. The assessment of such stress cues allows the reflexologist to target areas of stress and to design a session of pressure technique application appropriate to provide relaxation specific to the individual.
But remember a reflexologist cannot diagnosis or prescribe. Also remember reflexology is an adjunct to medical help not a replacement for it. You should seek medical help if you have an urgent or acute problem.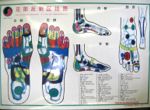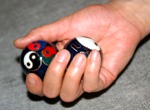 What should you expect from a reflexology session?
Reflexology sessions in general last from 30 minutes to an hour. It is a clothed session with only the removal of shoes and socks as a requirement. Dry technique is common. Some do use oil.
Reflexologies use pressure, stretch and movement to work through the foot methodically. The whole foot should be worked in most circumstances. Both feet should be covered as well.
The reflexologist should work within your comfort zone. Too much pressure can actually be harmful and could lead to injury. But personal preference is something you should communicate with your reflexologist. If you indicate that too much pressure is being used and the practitioner continues we suggest you stop the session. Do not rely on a reflexologist for medical help. The reflexologist is limited to complementing medicine not replacing it.
You should feel relaxation at the end of a session. How long that relaxation lasts is a good indicator of the effectiveness of the session. Make note of this. And tell your reflexologist your response to the session. This can be helpful information.
Cupping Therapy
Cupping is an ancient Chinese method of causing local congestion. A partial vacuum is created in cups placed on the skin either by means of heat or suction. This draws up the underlying tissues. When the cup is left in place on the skin for a few minutes, blood stasis is formed and localized healing takes place.
Cupping therapy has been further developed as a means to open the 'Meridians' of the body. Meridians are the conduits in the body through which energy flows to every part of the body and through every organ and tissue. There are five meridians on the back that, when opened, allow invigorating energy to travel the whole length of the body. It has been found that cupping is probably the best way of opening those meridians.
Cupping has also been found to affect the body up to four inches into the tissues, causing tissues to release toxins, activate the lymphatic system, clear colon blockages, help activate and clear the veins, arteries and capillaries, activate the skin, clear stretch marks and improve varicose veins. Cupping is the best deep tissue massage available. Cupping, the technique, is very useful and very safe and can be easily learned and incorporated into your family health practices.
Now plastic cups replace traditional glass cups and combine traditional cupping therapy with the magnetic therapy. The new cups are not fired as the traditional one. This has made the application of the cups easier and safer. It has a good penetrating effect and a big drawing strength. It has not only improved efficacy but also simplified the procedures of cupping therapy.
The improved plastic cups for ancient Chinese cupping therapy are now available for self-treatment at home. In China, the new cups are very popular for family cupping treatment.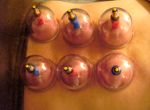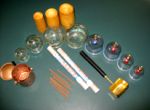 Auricular Therapy
Several theories, such as the 'homuncular reflex theory', 'delta reflex theory', and 'meridian theory', point to the fact that the ear is related to all parts of the human body and internal organs. Being one of the approaches in traditional Chinese medicine, auricular therapy is a therapeutic method by which specific points on the ear are punctured or pressed. Auricular therapy can activate meridians and collaterals, regulate the qi and blood, help to achieve the balance between Yin and Yang status of internal organs, and is therefore suitable for treating many disorders of the body.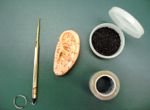 What Our Clients Say...
"The staff at Authentic Eastern Health are professionals, par excellence! I've had very positive results, from curing headaches and upset stomachs to relief from back pain and badly sprained ankles. Acupressure works very quickly to relax my body to allow it to heal itself."
C. Draper
"I have suffered from digestive problems for over 12 years and, after many tests, was diagnosed with Irritable Bowel Syndrome (IBS). After five weeks of acupressure, my symptoms have significantly abated and I continue to notice improvements each week. I am looking forward to living a life without stomach problems. I only wish I had known about Authentic Eastern Health earlier."
F. Perez
"It is the skill and professional knowledge of the staff at Authentic Eastern Health that has brought me back for regular treatments over several years. Truly, they have magic hands."
R. Parr
"I suffered a massive heart attack several years ago and my doctor told me I had less than six months to live. After receiving acupressure at Authentic Eastern Health, I feel like a new person. The friendly and knowledgeable staff answer all my questions and provide a relaxing environment. I always leave feeling refreshed and pain-free!"
B. Taras
"Authentic Eastern Health is a great place to regain and retain muscle and whole body flexibility after an injury or problems caused by chronic stress. The personnel are caring and knowledgeable and the acupressure is very effective in helping speed the healing process."
S. Friedman
"Authentic Eastern Health has shown an ability to comprehensively relieve multiple health problems of mine in a non-invasive yet effective manner. I don't know where I would be without them."
V. Brugger
Our Classes
Authentic Eastern Health L.L.C. offer more than 20 Chinese Health and Wellness Classes. They are:
Chinese Self-Massage for Keeping Fit
This class is also known as "Chinese health-care therapy". It has a long history in China for use in restoring health to the human body. In Chinese medicine, health is a function of balance, and self-acupressure therapy is one simple and free way of maintaining and restoring that balance. Using different acupressure techniques, you will learn how to release tension and relieve aching muscles. This class will also be helpful for relief from chronic aches and pains. Areas include the head, shoulders, back and knee. (DVD available)
Chinese Massage Hand Technique and Whole Body Massage
This class presents the Chinese acupressure which is known to improve the whole body function and increase energy level by using of meridian system and acupressure points. It include: six basic techniques and demonstration of whole body massage from scalp to toes. (DVD available)
Chinese Massage for Special Problems
This class teaches you how to use Chinese Massage for pain relief. Special channels and special acupressure points are used to relieve specific problems. Such as: headache, neck, shoulder, elbow and lower back pain. Eye massage also included. (DVD available)
Chinese Eyes and Sinus Massage
This class will cover 25 different steps, using acupressure points, to relax eye muscles, improve vision and open sinus blockages. (DVD available)
Chinese Reflexology and Acupressure for the Foot
This class introduces you to some basic foot reflexology and acupressure techniques to release aches and pains throughout the entire body. Learn how different areas of your foot relate to various parts of the body and how certain acupressure techniques can relax and affect the entire body.
Chinese Health Balls
Similar in size to golf balls and usually made of weighted metal, Chinese health balls are fun and easy to use. They improve hand and finger flexibility and increase manual dexterity and may also be used to stimulate the foot.
Self Finger Massage and Exercises
One of the best ways is to move our hands and fingers, since the hand reflects the whole body's internal organ systems and also contains the lung, heart, large and small intestine channels. This Chinese Finger Exercise class offers different exercises that will improve circulation and flexibility in hands, fingers, wrists and joints. According to the research it also is the best way to prevent dementia. (DVD available)
Walking for Health
In this class you will learn 12 different ways of walking. The body's circulation is increased. The muscles and ligaments are strengthened from the neck to the toes. The capacity of the lungs is increased to provide maximum oxygen. The physical and emotional body is in balance. You will burn more calories than when you walk the regular way. This will all result in better health. (DVD available)
Self-Help Techniques and Emergency Procedures
Learn easy techniques to relieve minor health problems such as sore throat, hiccups, stiff neck, lower back pain, and headache. Also learn how to apply simple acupressure techniques in various emergency situations until medical help arrives.
How to Develop Personal Healing Power and Reiki Basic
You will teach 8 simple body movements to gain more personal energy from the universe. Basic Reiki techniques will also be presented. Reiki (pronounced ray key) is a specific type of energy work that helps bring about relaxation, removes energy blockages, and increases vitality.
Acupressure Client Form
Download Form [PDF Document]